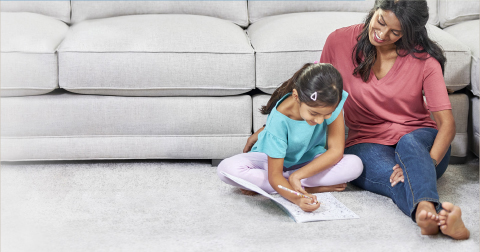 Your Healthy Home Starts Here
Carpet & Upholstery Cleaning in Dallas & Fort Worth, TX
A-Abc Chem-Dry provides professional carpet and upholstery cleaning in Fort Worth, Tx. We've been helping our customers have healthier home since 1992 - serving Fort Worth, Dallas, Addison and the surrounding areas. Our proprietary process combined with our non-toxic, green-certified solution means that we'll leave your home not only cleaner but safer and healthier, too.
We are proud to be a family owned business who are dedicated to providing an outstanding cleaning experience. We will treat your home and family with the respect they deserve and always do our best to give you the best results.
Carpet Cleaning That Dries Faster
Do you hate how long it takes carpet to dry after being cleaned? Well, our cleaning process allows your carpets to dry in as little as 1-2 hours. That's because our carpet cleaning process uses 80% less water than traditional steam cleaning.
That means no more post-cleaning musty smell and no more wet socks.
New Dryer Vent Cleaning
Does it feel like your dryer is losing its efficiency? Call A-Abc Chem-Dry today to help get your dryer vent back into tip-top shape! We can remove that debris and dust that is inhibiting your dryer's ability to do it's job. We recently got certified to do so and you can check our specials page to see the great deal we have available.
Learn More
Get a Free Quote Today!
Let us help make your home healthier. Fill out our contact form, or call today for a free quote.
Frequently asked Questions
We provide professional carpet and upholstery cleaning in Dallas, Carrollton, Plano, Frisco, Denton, Addison, Farmers Branch, Irving, Southlake, Grapvine, Colleyville, The Colony, Allen, Lewisville, Flower Mound and the surrounding area.
No, Chem-Dry is not a steam cleaner. Instead of steam, our process uses carbonation to lift up dirt and grime from your carpets. That way, we do not need to use the gallons of water that typical steam cleaners use. 80% less water, in fact! Because of our proprietary process, your carpet and upholstery dries in 1-2 hours and doesn't leave a musty mildew smell.
All of the ingredients in Chem-Dry's primary cleaner, The Natural, are on the F.D.A.'s G.R.A.S. (Generally Recognized as Safe) list and are safe for your carpets, your home and your family. The Natural does not contain any soaps or harsh chemicals.
We can't speak for other carpet cleaners. But Chem-Dry uses a patented, green-certified cleaning product call The Natural. The Natural cleans with carbonation instead of harmful soaps or detergents so it is doesn't leave a harmful soapy residue. Everything used in The Natural is on the FDA's G.R.A.S. (Generally Regarded As Safe) list and is 100% non-toxic. Our cleaning process also uses 80% less water than typical steam cleaning.
How do you remove pet urine odors from carpets?
Pet odors can linger on for months if not treated properly. As urine dries in the carpet and padding, what's left are millions of concentrated urine crystals that become even more pungent. Many companies just mask this odor. Chem-Dry uses a patented system, P.U.R.T.® (Pet Urine Removal Treatment) to explode the urine crystals and break down the enzymes which gets rid of the pet urine odor forever.
How often should I have my carpets cleaned?
Industry experts suggest that homeowners clean their carpets every 3-6 months especially homes with kids, pets or if someone in your home has asthma or allergies. Regular cleaning will not only improve your home's appearance, but it will eliminate allergens, improve your home's indoor air quality and extend the life of your carpeting.